Welcome to the Frostbite Friendly League website.
Race 6 - 2nd March 2014

Nene Valley Harriers are Senior Champions Huntingdonshire AC are Junior Champions Race 6 at Hinchingbrooke Park results here: Individual HERE Team and final league positions HERE Many thanks to BRJ for hosting the last race of this season's Frostbite Friendly League series. Despite having to reroute the course at the last moment due to flooding and grass/mud areas we were not allowed to use we still had a great morning's race. Well done to NVH who are the Senior Champions and Hunts AC who are the Junior Champions That's it for another season! I want to thank all the runner who have participated in the League this season. The juniors particularly have been amazing, every race has seen a record junior entry at that venue.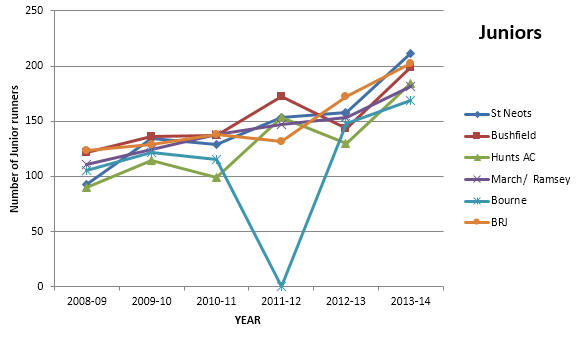 (The dip in 2011-12 is when Bourne was cancelled due to snow) The AGM is in May please talk to your Chairman or Captain if there is anything you would like discussed. Lost property: 1 pair of Boots sunglasses
Results from round 6 at Hinchingbrooke Park
Seniors
Juniors
Results from round 6
Results from round 6
Position
Club
Race Points
League Points
Position
Club
Race Points
League Points
1
NVH
374
16
1
Hunts AC
50
15
2
Hunts AC
555
15
2
Riverside Runners
85
14
3
PACTRAC
715
14
3
C&C
101
13
4
Riverside Runners
807
13
4
BRJ
167
12
5
March
845
12
5
Bourne
215
11
6
Werrington
968
11
6
Yaxley
231
10
7
Fenland
981
10
7
NVH
235
9
8
Yaxley
1004
9
8
Werrington
263
8
9
Ramsey
1041
8
9
Ely
269
7
10
BRJ
1055
7
10
Ramsey
368
6
11
Ely
1083
6
11
PACTRAC
426
5
12
C&C
1103
5
12
March
562
4
13
Thorney
1304
4
13
Thorney
569
3
14
Bushfield
1631
3
14
Eye
672
2
15
Bourne
2140
2
15
Bushfield
1001
1
16
Eye
2493
1
Final League position 2013-14
Seniors
Juniors
Position
Club
Race Points
League Points
Position
Club
Race Points
League Points
1
NVH
3015
95
1
Hunts AC
278
90
2
Hunts AC
3847
87
2
Riverside Runners
570
81
3
C&C
5166
70
3
C&C
604
79
4
Riverside Runners
5616
70
4
BRJ
1211
65
5
Werrington
5810
64
5
NVH
1224
63
6
Ely
5723
61
6
Yaxley
1641
55
7
Fenland
6147
59
7
Bourne
1658
55
8
March
6338
58
8
Ely
1566
52
9
PACTRAC
6072
56
9
Werrington
1892
47
10
Ramsey
6713
51
10
Ramsey
2271
40
11
Yaxley
7178
42
11
PACTRAC
2704
30
12
BRJ
7809
35
12
March
3328
23
13
Bushfield
8927
23
13
Thorney
3077
21
14
Bourne
11502
20
14
Eye
3773
13
15
Thorney
9350
17
15
Bushfield
5618
6
16
Eye
12399
9
All races: Junior start 10:15, Senior Start 11:00
Frostbite Friendly League Secretary
Adrian Jarvis
Tel: 01480 475717